Discover the Authentic Turron of Jijona
Would you like to discover the secrets of the authentic turron de Jijona? So join Maria Simona's turrons on this culinary journey, from the moment we collect the ingredients until the turron is ready for delivery to your home. Each Spanish nougat has its own peculiarities, but here we share with you the process of elaboration of our turron de Jijona, one of the most emblematic forms of this Spanish delicacy.
Preparation of Honey and Sugar: The Malaxadora
Our journey begins in the beekeeping fields, where the bees produce the delicious honey that, combined with sugar and egg, creates the basis for the traditional turron. We beat these ingredients in a cauldron, the malaxadora, constantly monitoring the temperature and cooking time until we reach the ideal point. The master turroner takes a portion of the dough and stretches it. If it crunches like fudge, it's ready. At María Simona's turróns, we have also developed a variation of this step where we use substitutes to avoid added sugars.
The addition of Almonds: The role of the Punxe in the authetic Turron de Jijona
When the dough is ready, we integrate the other main ingredient of the recipe, the almonds. After peeling and roasting them, we add them to the mixture and beat them together with a "punxe". "Les Punxe", which means "the skewers" in Catalan, is a type of stainless steel shovel that we use in baking. We mix the 60 kilos of dough of each batch rhythmically with this tool until they are ready.
The Cooling and Grinding Process for the Authentic Turron de Jijona
Once ready, the artisan-turronier places the dough on special plates to cool. When it reaches the right temperature, we put it in granite mills to grind it into a compact paste. Then, we refine this dough to obtain the desired texture. Then we cook the paste a second time in the "boixet", a kind of mechanical mortar specially designed for the production of nougat. It remains there for a time determined by
the Spanish Nougat Regulatory Council
.
Finally, we place the hot dough in molds where it rests for 48 hours, giving birth to a bar of Turron de Jijona ready to be packed.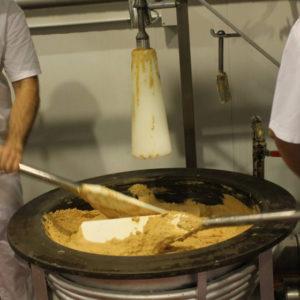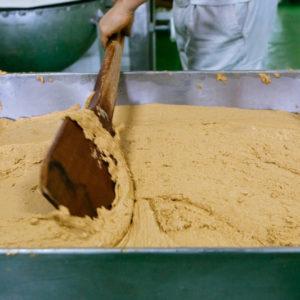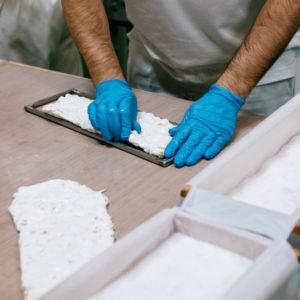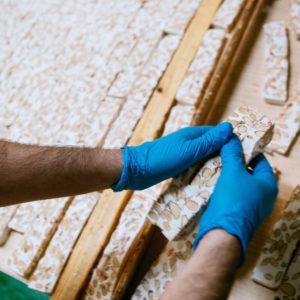 The Products Maria Simona :